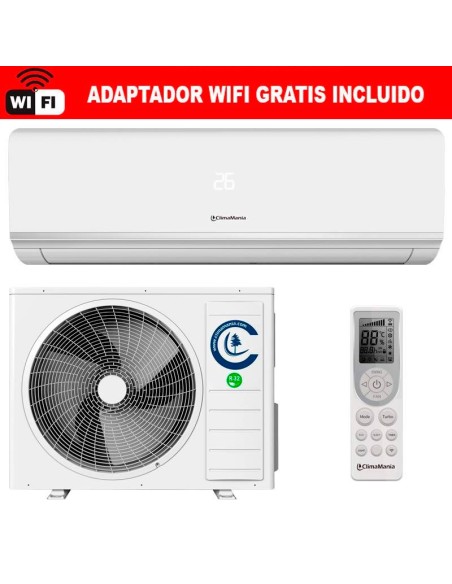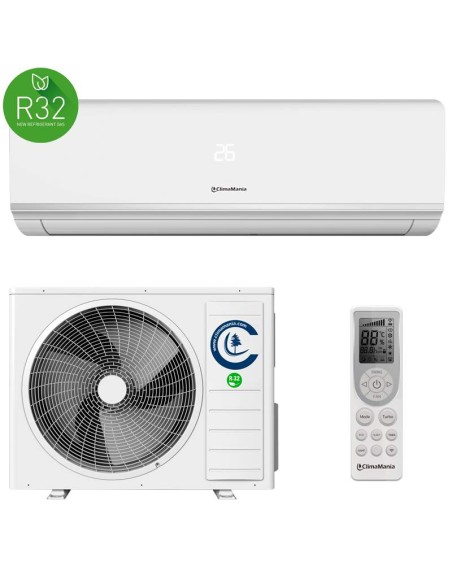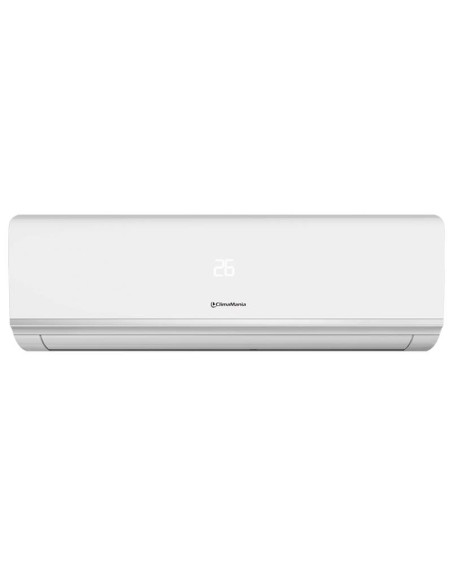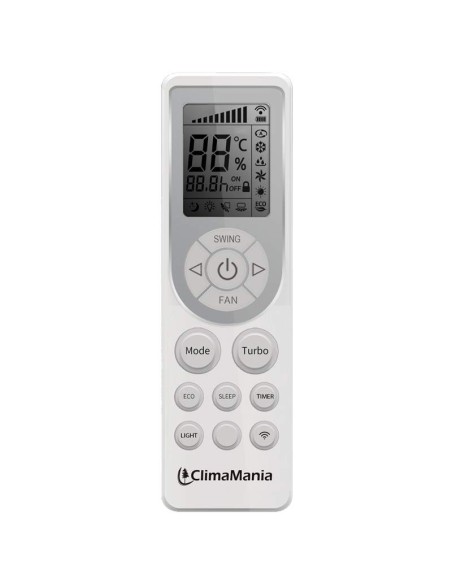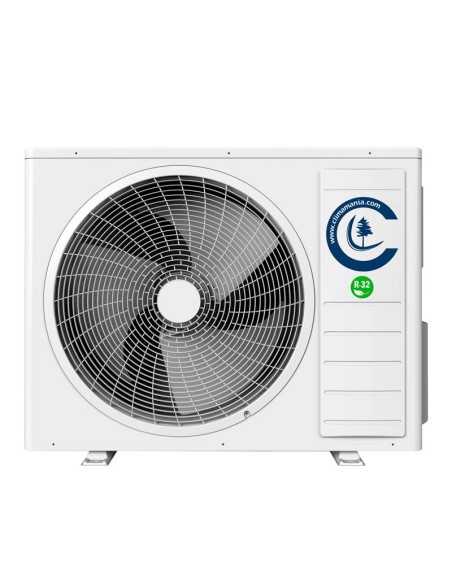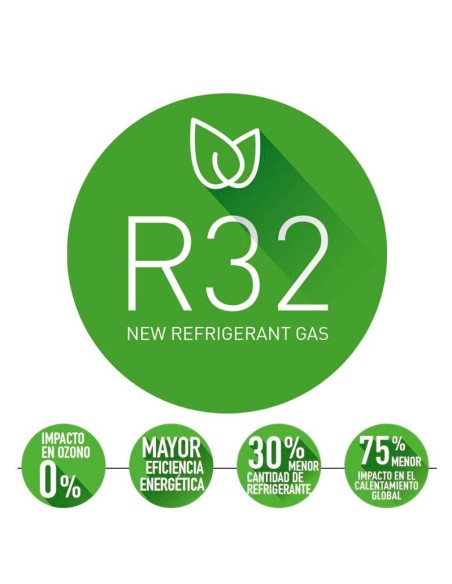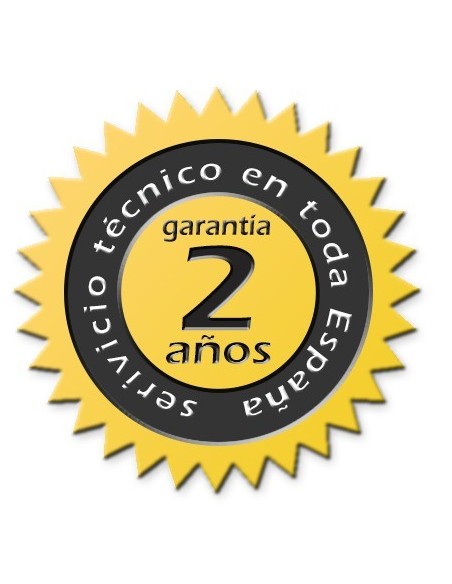 Air Conditioning Climate CLS50IM
Air Conditioning ClimaMania Split Wall CLS50IM
Super DC Inverter
With a heat pump.
Frio Capacity: 4532 Kcal/h.
Capacity Heating: 4.730 Kcal/h
Energy efficiency (Frio/Calor): A++/A+
Control WIFI included series
Basic installation Split Air Conditioning up to 5000 Frig/h
Basic Air Conditioning Installation up to 5,000 Frigories and 3 meters between inner and outer unit.
Which includes:
1 Pair Support Game.
4 SilentBlocks for the compressor.
Up to 3 meters of cold installation by you Interior with 1/4"-5/8" insulated tube
Up to 3 meters of electrical interconnection.
Up to 1.5 meters of beautifying channel.
Up to 3 meters of drain on you inside.
Displacement up to 30 km from the capital of the province.
It does not include works of Albañileria or painting.
If you need extra accessories for installation or another additional service, you can see them at: Facilities Extras
Air Conditioning ClimaMania CLS 50 IM R 32 Inverter
If you are looking to buy the highest quality air conditioning at the best price, this model is one of the best options.
In ClimaMania we have selected from among the best air conditioning manufacturers the best price ratio offers, and result has been the CLS - IM series.
The Split Pared 1x1 CLS50IM Air Conditioning Equipment with Super DC Inverter technology and heat pump stands out for its high energy efficiency both in cooling and heating mode and for its reduced sound pressure. All this with an avant-garde design that is sure to adapt to the environment of your home.
Below you can see the features of our Air Conditioning team.
Main Air Benefits CLS 50 IM
Advanced technology Super DC inverter that optimizes electric air conditioning
High energy efficiency with 4 w/w SCOP index.
Gas Refrigerator R32
Display LED temperature indicator and operating mode.
Auto swing vertical function for better air distribution in the room.
Silent design.
Self-diagnostic function.
Remote control via built-in wireless remote control.
Minimum consumption in rest mode.
Control WIFI included series
Video: How to install a WIFI adapter in an air conditioner
We help you to install and configure the Air Conditioning WIFI Adapter ClimaMania:
Power (Frig/h)

4532

Power in Heating mode (Kcal/h)

4730

Power (Kw)

5,2

WIFI

Optional

Energy efficiency

A++

SEER

6,3

SCOP

4

Refrigerating gas

R-32

Food voltage

220 V.

Color

Blanco Standard

Sound level inside unit (dB)

29

Dimensions inside unity (Height/Width/Depth) mm

302 / 972 / 224

Dimensions outside u. (Height/Width/Depth) mm

598 / 890 / 372

Refrigerant connection diameter

1/4"-1/2"

EAN Code

8435483819306
All the products that we supply at ClimaMania are new and come from the official distribution channels of their respective brands, and therefore have the Official Guarantee of each manufacturer.
Said guarantee covers the repair under the specific guarantee conditions of any defect of origin through the Official Network of Technical Services of each brand within the Spanish territory.
In the event that you have an incident with any of the products that you buy at ClimaMania that is covered by the guarantee, contact the manufacturer directly, which will take care of the repair.
To justify your guarantee, you must present your purchase invoice at ClimaMania, a document that will prove both the product reference and the date of purchase.
Inside the packaging together with the documentation of the device you have purchased, you will find both the warranty conditions of the product offered by the manufacturer, as well as the contact where you have to go to request a warranty intervention.
In case you have any questions about it, you can also contact us and we will be happy to help you.
Can I return my order?
Of course, if you are not satisfied with the product you have purchased, you can return it within 14 calendar days from the date it was received.
The only thing you have to take into account to return your order is that both the product and its packaging must be in the same condition in which it was delivered to you, and must not have been tampered with or installed.
How can I process a return?
Processing the return of a product purchased at ClimaMania is very easy, you simply have to fill out and send us the form that you can download by clicking here: (Withdrawal Document), and send it to us by email at info@climamania.com
For what reasons can I make a return?
If you have changed your mind and no longer want the product that you have purchased from us within a period of 14 calendar days from the date of receipt of your order, you can return it to us. Once this period has passed, it will be possible to return it.
I have received a product in poor condition. And now what do I do?
If, once your order is received, you observe damage caused by transport, you must necessarily notify us within a period not exceeding 24 hours from the date of receipt. To do this, contact us by sending an email to info@climamania.com indicating the order number, and attaching photographs of the damaged material. Once verified, we will quickly manage the replacement and replace the damaged merchandise at no cost to you.
What are the return costs?
If the reason for the return is attributable to ClimaMania, because the product we have sent you is defective, wrong, etc... the return of your order will have no cost to you.
In the event that the reason is another, for example that the products were served correctly, but you no longer want them, we will pay you the total amount of the merchandise when you send it to our warehouse. If you do not have the means to do it, we offer you to do it through our transport agencies, discounting the transport costs involved in said return.
How will we reimburse the amount of the return?
Once the returned product has arrived at our facilities and we have verified it, we will process the refund by the same means of payment that you would have used at the time of placing your order.
Under what circumstances is it not possible to return a product that I have purchased?
In the following cases we will not be able to accept the return of your order:
· Once 14 calendar days have elapsed after the date of receipt of the same
· If the product you want to return to us is not in perfect condition, or if, even though it is in perfect condition, it does not keep its original packaging in perfect condition.
· If the item has been installed or tampered with.
· If having received the product with apparent transport damage, you have not notified us within 24 hours of receipt.
· If it is a product that we do not normally distribute and we have expressly requested it for you.
Non-hermetically sealed equipment loaded with fluorinated gases, such as air conditioners, must be installed by authorized companies with certified personnel for installation in accordance with Royal Decree 115/2017 of February 17, and Regulation (EU) 517/2014 on fluorinated greenhouse gases.
All the companies that sell and install air conditioners have the obligation to inform the user of this circumstance.
On the other hand, when the user buys an air conditioning unit in any store, he has to fill out some documents and send them signed to the establishment where he bought it within a maximum period of one year, counting from the date of purchase.
In the following link you can download the documents that you have to send us completed: Document BOE
De momento contento, hace dos días que funciona ?,parece que funcionara bien.

Luis R.

published the 14/08/2022

following an order made on 27/07/2022

Calidad-precio inmejorable

Georgina G.

published the 03/08/2022

following an order made on 23/07/2022